Elijah's Xtreme Gourmet Sauces has won 44 awards since 2015 for great flavor and well balanced heat!
"Wow 5 Stars! This is, without a doubt, the best tasting hot sauce I've ever tried, this sauce actually has a taste to it, yes it's hot, but isn't just a sauce that will makes you sweat without flavor, tastes incredible on pasta and chicken, no need to use a whole lot...thick texture and easy to use... if you try it you certainly won't be disappointed."
"I bought a bottle of this hot sauce about 3 months ago. This truly is the BEST hot sauce that I have ever had. My son Brad and I are now addicted. We crave it on almost everything. This sauce is hot, thick and perfect. I have been eating hot sauces all my life and NOTHING can compare. My son and I will NEVER run out again. Honestly, it`s the truth!" – Kayla
"CAN'T GET ENOUGH! I love this stuff!! I keep a bottle in my purse at all times! This hot sauce is hott but has a perfect flavor that pairs with everything!" - CH
" Best tasting hot I ever had. Hot but doesn't mask the flavor of the food. Good slow burn that stays with you for a little while but leaves you wanting more!" - BK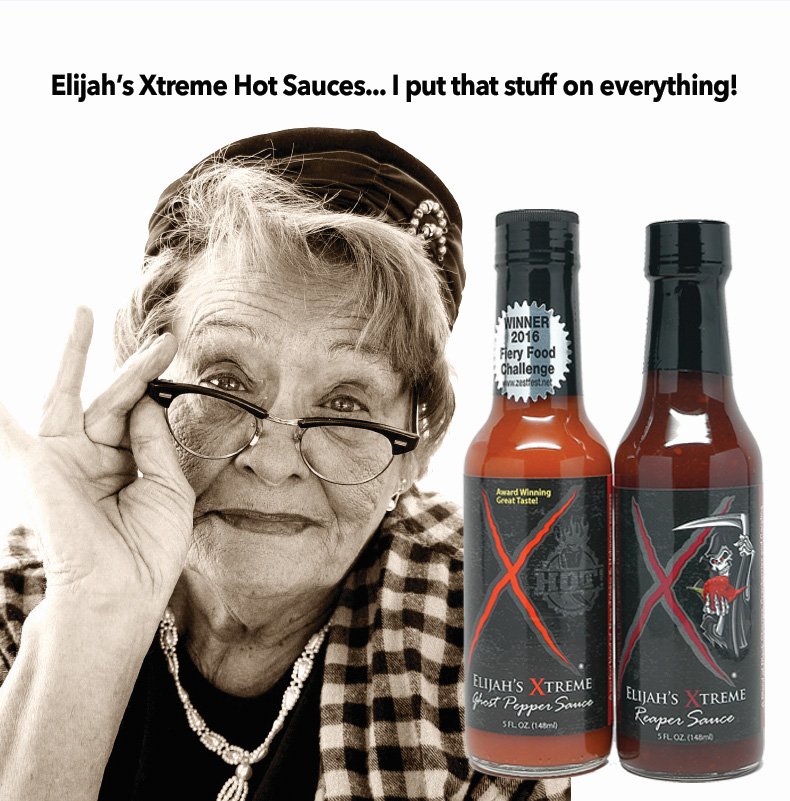 hot sauce, Elijah's Xtreme, Extreme Hot, World's Hottest Hot sauce, Carolina Reaper Hot Sauce, Ghost Pepper Hot Sauce, Deer Smear, grilling sauce, glaze, marinade, dipping sauce, Hot sauce gift set, Worlds Hottest Pepper, Xtreme Regret Scorpion and Reaper hot sauce, Screaming Hot, Hot hot hot, Hot sauce, Spicy BBQ, Bourbon infused blueberry, Tangy fire BBQ, Award-winning, Sweet Heat Hot sauce, Fruit base Hot sauce, Tomato base hot sauce, Spicy lover, Gift pack, Gift ideas, Hot Sauce Gift Set, Father and Son, Handcrafted, Delicious, Gourmet hot sauce, Wild Game Grilling Sauce, Shrimp dipping sauce, Kentucky Bourbon, Reaper Sauce, Scovie Awards, Award Winning, Best Hot Sauce, Hot, Hot Hot Hot, Great Flavor and Well balanced heat!